How to Generate Certificate Signing Request (CSR)
Here are steps to generate certificate signing request (CSR).
STEP 1: Open Keychain Access application on your MAC system.
STEP 2: Now from KeyChain Access menu choose Certificate Assistant > Request a Certificate From a Certificate Authority… as shown in below image.
STEP 3: STEP 2 will open form dialog as shown in below image. Provide "User Email Address" and "Common Name". Select "Save to disk" option and click on Continue button.
NOTE: If you are using CSR for creating certificate on apple site then also select "Let me specify key pair information" and provide 2048 as key size when asked.
STEP 4: Once you complete STEP 3, it will ask you to specify destination and name of resulting CSR file. Give name and specify destination for CSR file. I used my desktop as destination and name as "CetificateSigningRequest.certSigningRequest" as shown in below image.
STEP 5: STEP 4 will save CSR on your specified destination. Below image show a confirmation message for successful saving of CSR file.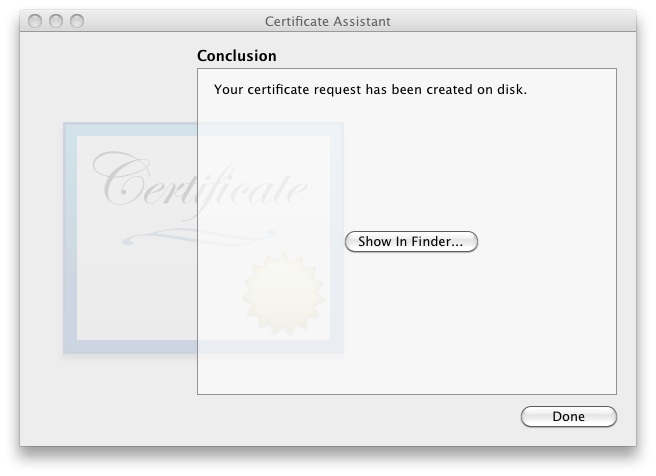 Now we have generated CSR file. You can use it for creating Certificate for Apple Developer Site and also for Push Notification.
Please feel free to write comment if you have any doubt.
Categories:
iOS, iPad, iPhone, iPhone Programing Tutorial, xCode
Certificate Signing Request, CSR, iPhone, iPhone Programing, Keychain, Keychain Access, xCode